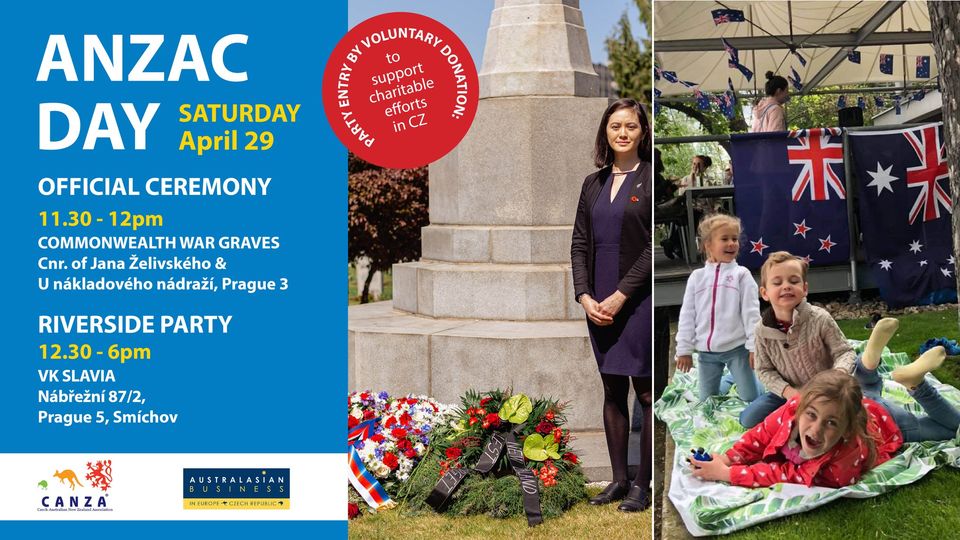 The day will begin at the Commonwealth War Graves in Prague 3 with the ode and official wreath laying ceremony. When concluded, everyone is invited to make their way to the VK Slavia Rowing Club in Prague 5. Please note that there is no courtesy bus this year, guests can easily travel from the closest tram stop and take trams 5, 10 or 16 to the Rowing Club.
From 12.30 VK Slavia is our exclusive domain. Bring a picnic blanket and lots of cash for BBQ food, pies, sweets, drinks, a raffle and a voluntary entry fee to help us raise money for charity.
There will be an entertainment programme featuring live musicians.
Plus we will have activities for kids, speeches and a fabulous BBQ run by The Prague Scouts and a well stocked drinks bar that will be serving premium Aus and NZ wines, Prosecco, soft drinks and Ferdinand Beer. The Pie Shop will also be selling their Pies and Sausage Rolls and Sweet Oz will have Anzac biscuits, Lamingtons and more for sale.
Anzac Day is an important commemorative day for Australians and New Zealanders but we encourage ALL nationalities to join, mix and enjoy a day that celebrates freedom and sovereignty, particularly pertinent given the current political climate.